ROMEO - Camera Critter Cat
~~Shadow Metamorphasis~~
as the sun moves during the day.
Start with one very-much loved adorable kitty
sitting in his favorite sunny spot just chillaxin'.......
Then the combination of the bright warm sun
and a happy full tummy makes him kinda sleepy.
Doesn't he have that "What, Mom? Sheesh, can't you just please leave me be and quit your blog pic takin' for half a second so a kitty can be lazy for a while uninterrupted??!!??"
He is a seriously sound napper
who can and will sleep for hours upon hours
and roll about, trying to keep up with the
Yes I have used this pic before but it is just perfect for this post.
Half of you is out of your sunbeam, my friend!
He is the sweetest rescue kitty boy in the history of EVER.
Sharing this with Camera Critters linky party!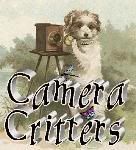 Also Linking:
Shadow Sunday
Metamophasis Monday