Each year, once in spring and once again in autumn
hosts a wonderful teacup swap!
This was my first year finally getting in on the fun,
and what fun it has been!
I exchanged in two teacup swaps this time;
therefore shall have to share them in two separate posts
because a single post is just too large.
I am so blessed and happy she paired me up
for a second exchange with Tammy!
She wrote me the sweetest note
on this lovely embossed roses and lace note paper,
telling me a bit about herself.
Isn't this an absolutely gorgeous teacup?
It's a lovely handpainted Japanese teacup & I love it!
I have a somewhat similar one so now have a close
matching pair for when I have a guest over!
(So come on over, Tammy, let's sip!)
I adore its intricate botanical details
and embellished with such feminine swirls.
Also enclosed was a adorable little teapot spoon
that matches the set so nicely!

Beautiful Christian stickers were included
in her precious exchange gifts for me:


And the sweetest vintage
embroidered
rose runner!
Isn't it stunning!?
And tucked also inside the box was
three beautiful lace napkins.
They are so soft, beautiful and delicate!
I wish you could feel them to know!
And to complete my teatime happiness-
some yummy chocolate raspberry sweets
and a huge sampler box of Bigelow teas!
(A variety pack will come in handy with the holidays coming up!)
Oh, thank you so much Tammy
for my wonderful teacup & exchange gifts!
And a HUGE thank you goes out to
Stephanie
for hosting such an amazing and fun swap!
It was a real pleasure to be part of it!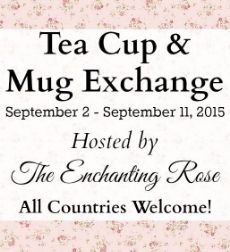 Be sure to hop on over to The Enchanting Rose
to see all the participants teacups!
As always, thank you for your visit!
♥
~Michele